Registration at the conference venue
All approved participants must register at the start of the conference. This must be done at the conference venue at one of the following:
At our registration desk in the hotel on Monday July 1. between 18.00 and 21.00 hrs (6.00 to 9.00 PM) or on Tuesday July 2. between 07.00 and 08.45 hrs (7.00 to 8.45 AM)
In the conference secretariat during the conference
Conference venue
The conference venue will be the Scandic Lerkendal Hotel. This is one of Norway's largest congress facilities, and is located around two kilometers outside the city centre. Scandic Lerkendal is designed for universal accessibility, with rooms and facilities adapted to disabled guests. The hotel is located at Klæbuveien 127 in Trondheim, and can be reached by telephone at (+47) 21 61 51 00 or by e-mail at lerkendal@scandichotels.com.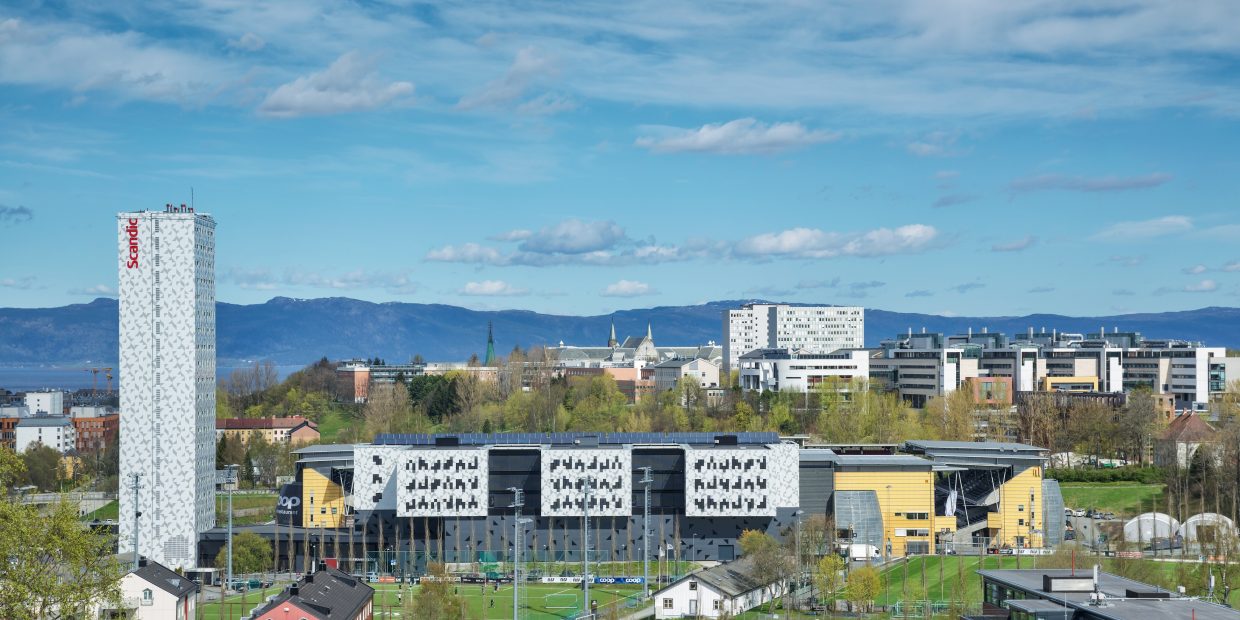 Accomodation
We have a block reservation at the conference venue Scandic Lerkendal Hotel for speakers and for participants from countries eligible for travel support, and a majority of the participants will stay here. Our booking code with Scandic Lerkendal expired on May 31, but they may still have some available rooms. The hotel is located at Klæbuveien 127 in Trondheim, and can be reached by telephone at (+47) 21 61 51 00 or by e-mail at lerkendal@scandichotels.com.
Another hotel option is the Scandic Bakklandet Hotel. This hotel is closer to the city centre, approximately 3,5 kilometres from the Scandic Lerkendal Hotel. Our booking code with Scandic Bakklandet expired on May 31, but they may still have some available rooms. Scandic Bakklandet Hotel is located at Nedre Bakklandet 60, and can be reached by telephone at (+47) 72 90 20 00 and by e-mail at bakklandet@scandichotels.com.
There is also a number of other hotels available in Trondheim, primarily in or near the city centre.
Accomodation will be booked by the Conference secretariat for speakers and for participants from countries eligible for travel support.

All other participants must book their accommodation directly with a hotel in Trondheim. Please book your hotel room as soon as possible.
Transport to and from the airport
All participants must organise their own transport from the airport to the hotel upon arrival and departure. Airport buses going directly to Trondheim city centre and to the conference venue are located just outside Arrivals at the airport terminal.
From the airport there are transfer buses leaving for the city center every 10 minutes. They are operated by two different bus companies with slightly different routes: Værnes-Ekspressen and Flybussen. The transport from the airport to the city center where both hotels are takes about half an hour. A return ticket costs between NOK 240 and NOK 260. You can pay with cash or by credit card.
To Scandic Lerkendal Hotel:
Værnes-Ekspressen stops right outside Scandic Lerkendal Hotel, and the name of the bus stop is Scandic Lerkendal Hotel.
Flybussen stops a 10-minute walk from the hotel, and the name of the bus stop is Professor Brochs gate.
To Scandic Bakklandet Hotel:
Værnes-Ekspressen stops a 2-minute walk away from Scandic Bakklandet Hotel. The name of the bus stop is Bakkegata (across the street from the hotel).
Flybussen stops a 10-15-minute walk away from the hotel. The name of the bus stop is Trondheim Sentralstasjon (the Central Station).
Local bus transport
Trondheim has a well developed public transportation system, and there are regular bus services between the conference venue and the city centre. More details on local transport will be available at the conference venue during the conference.
Practical details for Norway
The official language is Norwegian, and most Norwegians are able to communicate in English.
The currency is Norwegian kroner (NOK), and 100 USD is around 860 NOK. All major credit cards are accepted and ATMS are readily available.
The electric current is 230 V at 50 Hz, utilizing 2-pin plugs. Socket adapters are available for sale e.g. at airports and in electrical stores.
Emergency phone numbers:
110 - Fire
112 - Police
113 - Ambulance
Climate and weather
July is the warmest month of the year in Norway, but may still feel chilly to some. Mean day time temperature for July is 18°C (64°F) and night time 9°C (49°F) with a mix of windy, sunny, cloudy and rainy weather. You may want to consult the updated weather forecast.
Tourist tips and facts about Trondheim
Trondheim is Norway´s third largest and second oldest city, founded in 997. The city has a strong position as the hub of trade for central Norway. The city is also a center for higher education, with the internationally renowned Norwegian University of Science and Technology (NTNU). The many research communities contribute to Trondheim's reputation as a city of innovation and development in science, business and industry. Trondheim hosts the Norwegian Environment Agency (co-located with Oslo), the Norwegian Biodiversity Information Centre and the Norwegian Institute for Nature Research (NINA).
Trondheim has a rich variety of historical sights, museums and art galleries. A flagship of the city is the Nidaros Cathedral, which is one of Scandinavia's largest medieval buildings and which houses the Norwegian royal regalia. Among other notable sights are the Ringve Music History Museum and the Trøndelag Folk Museum. Scandinavia's largest timber building, Stiftsgården, is the residence of the Royal Family in Trondheim. Throughout the city center one will find distinctive wooden houses and narrow alleys from the 17th and 18th centuries, and east of the river Trondheim's wooden building tradition manifests itself in a particularly lovely way in the neighborhood of Bakklandet. Trondheim also hosts modern urban solutions and architecture. This includes Powerhouse, which is Norway's first "energy positive" office building, and over time will produce more energy than it consumes.
There are also interesting things to see in the Trøndelag region and surrounding areas. Some inspiration may be found in the links below. This includes a travel tip for a two-three day drive with starting point Trondheim, where you can experience the beautiful fjords and dramatic mountain landscapes. Parts of the trip can also be made by train.
Visa requirements
Foreign nationals who wish to travel to Norway must, as a rule, have a visa. The type of visa you require depends on the purpose of your visit. The conditions for obtaining a visa vary depending on the type of visa and the applicant. More information on visa requirements can be obtained from the nearest Norwegian foreign service mission, and in addition general information is provided by the Norwegian Directorate of Immigration.
The process of obtaining visa documents may take time, so please start in good time!
Any person who applies for a SCHENGEN-visa must present proof of a valid travel and sickness insurance. The insurance must be valid in all Schengen countries, and the minimum coverage must be EUR 30 000. Documentation of the insurance must be presented once the applicant is informed that a visa will be granted. Without such an insurance a visa cannot not be issued.
The section on Travel support gives information on visa expenses that may be covered for participants from countries eligible for travel support.
Exhibits and displays
We will provide some room for exhibits and displays at the conference venue, and for distribution of material to participants. However, we have limited space and capacity, and this has been distributed based on dialogue with interested particpants. If you have questions on this please contact the Conference Secretariat.